Click on a picture to start customizing a grille with that pattern or click here to start fresh.
Decorating your home or office is a personal journey, an opportunity to express your unique style and preferences in every nook and corner of your space. While furnishings and wall décor often receive much attention, a seemingly humble but vital element, air vents or grilles, are often overlooked. However, these small yet significant elements can make a powerful impact on your overall aesthetic. The solution to these overlooked aspects?
Custom grilles
The Power of Custom Grilles
Grilles are a crucial component of any home or office space. Traditionally, grilles have been standardized, mundane objects – purely functional with little regard to aesthetic appeal. Custom grilles are becoming a popular choice among homeowners, architects, and designers.
Custom grilles are not just about function, they introduce an additional layer of aesthetic charm; seamlessly blending practicality with design.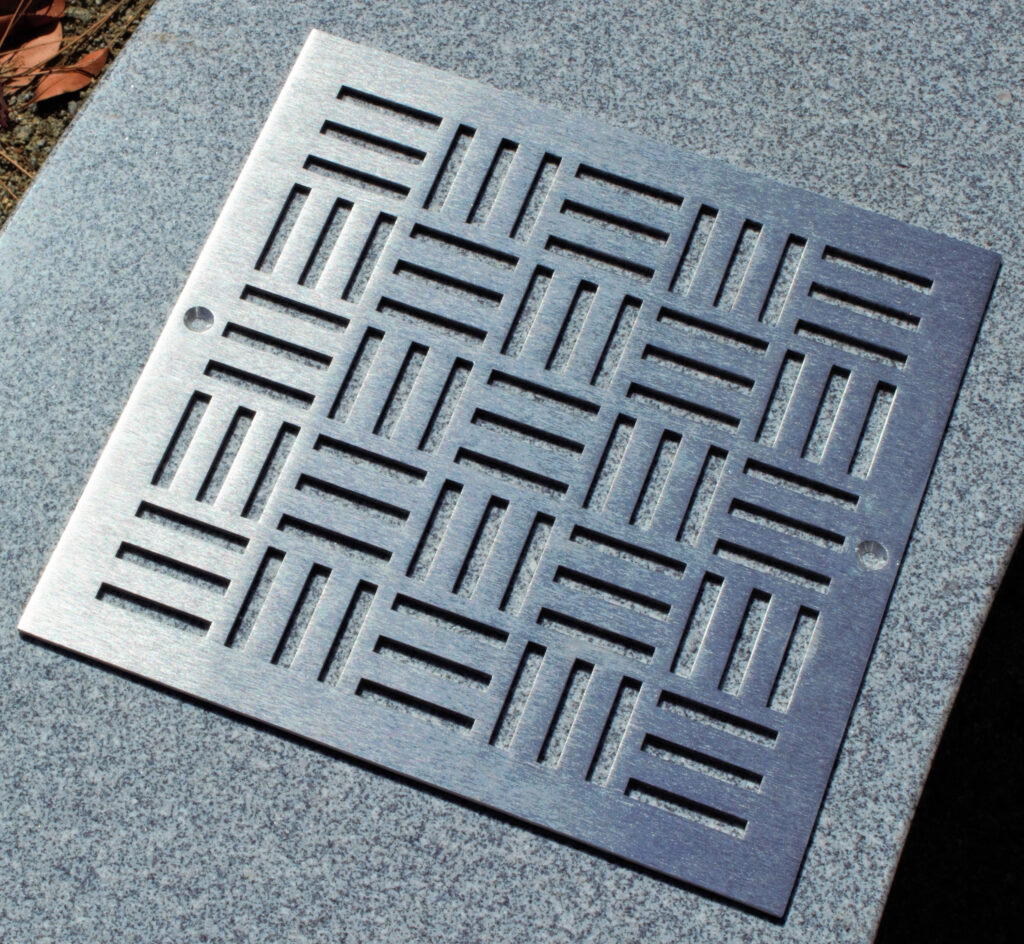 Advantages of Custom Grilles
1. Made-to-Order: Every space is unique, and so should be the elements within it. Custom grilles are tailored to your specific measurements, ensuring the perfect fit for your requirements.
2. Quality Craftsmanship: Crafted from top-notch materials, our grilles are designed to stand the test of time. Precision cutting and meticulous finishing guarantee that each piece is durable, beautiful, and a testament to excellent craftsmanship.
3. Personalized Aesthetics: Our custom grilles offer a broad array of materials such as aluminum, black acrylic, black GeoTone MDF, maple ply, or bamboo, with three powder coat finishes available for aluminum grilles, providing a selection that aligns with your individual style. The intricate perforated patterns can add a sophisticated touch to any décor, enhancing your room's aesthetic appeal.
4. Made in the USA: Each custom grille is made in our warehouse in Medford, Oregon.
5. Specialized Purposes: Custom grilles can be designed with a specialized purpose such as a blanking panel, or other specific use cases.
Making a Statement with Custom Grilles
The beauty of custom grilles is that they allow you to express your unique style in an unexpected place. They can seamlessly match your existing décor or serve as an accent piece, adding an intriguing touch of design.
With our customized grilles, you're not just choosing a functional component – you're selecting a piece of art that breathes life into your spaces. So, whether you're revamping your home or designing a new office space, consider the transformative power of custom grilles.
Stepping into the world of custom grilles means every aspect of your home or office can reflect your personality and taste. It's about creating a space that feels truly yours.
---
Explore the exciting possibilities today, and elevate your interiors with our custom grilles. Remember, no detail is too small when it comes to creating your dream space.
It's time to transform functionality into style