InOvate believes in creating products that transform your laundry routine, making it safer, faster, and more efficient.
Efficiency, Space, and Safety with the Dryerbox®
One of the most common challenges homeowners face in their laundry rooms is the lack of space. Traditional dryer venting solutions often require a large clearance, leaving your dryer sticking awkwardly into the room. The revolutionary Dryerbox® by InOvate is designed to tackle this problem head-on.
The Dryerbox® is a recessed box that fits into your wall behind the dryer. It allows your dryer vent hose to run straight through the wall, eliminating those unsightly and space-consuming bends. This allows your dryer to sit flush against the wall, freeing up valuable laundry room space.
But that's not all; the Dryerbox® also promotes efficient airflow by providing a direct path for venting. This reduces drying times and energy consumption, saving you money in the long run.
Safety and Maintenance with the DryerFlex®
Another paramount concern with dryers is the risk of fire from lint build-up in the vent. The DryerFlex® by InOvate offers a solution to this problem. Made with all-aluminum ribbon, the DryerFlex® provides a safe, smooth, and efficient conduit for your dryer vents. It takes the concept of a flexible vent hose to the next level, offering superior protection and airflow compared to semi-rigid or plastic options. Its smooth interior and flexible design minimize lint accumulation and make it easy to clean, reducing the risk of dryer fires.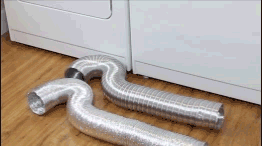 Roof Venting Solutions with the DryerJack®
Unlike regular roof vents that are prone to lint build-up and bird nesting, DryerJack® offers a unique design that minimizes these issues. It features a curved damper, allowing it to open fully for maximum exhaust airflow, while the professional-grade construction keeps pests out, ensuring your vent stays clear and secure. The DryerJack® also offers a sleek, low-profile design that blends seamlessly with your roofline.
Outdoor Venting Solutions with the DryerWallVent®
The DryerWallVent® is an aesthetically pleasing and effective solution to outdoor dryer venting. Its low-profile design sits flush against your exterior wall, making it an attractive addition to your home's exterior. But the DryerWallVent® isn't just about looks. With a strong, lightweight damper and a structurally optimized hood, it also helps to ensure optimal airflow, enhancing dryer performance and efficiency.
Improving Indoor Air Quality with the Dryer-Ell®
The Dryer-Ell® is an innovative elbow fitting that offers a brilliant solution for long vent run situations. It provides equivalent airflow performance to traditional sections of straight duct, enabling you to have longer vent runs without compromising on dryer efficiency or safety. It's a perfect choice for homes where the laundry room is located in the center of the house or on upper levels.
---
InOvate dryer products are designed with the customer's needs in mind. They aim to solve common laundry problems with innovative solutions, making the routine task of doing laundry easier, safer, and more efficient. So whether you're renovating your laundry room or simply upgrading your dryer venting solutions, InOvate's products are the right choice for you.