If you've been following our blog entries about viruses, micropdroplets, and Covid-19, or just reading the news, you're coming to the conclusion that air filtration is getting to be very important.
It's important to cut the "viral load" or amount of viruses that one is exposed to, and micro droplets that can contain Covid can remain aloft for up to 10 hours.
Masking and source capture (see our blog on dental aerosols) are good ideas, but there are many reasons why we still want to filter our air. Masks are not 100% effective (nothing is), and people make mistakes.
Just the facts: Why Filtration?
Masks are not 100% effective
People are not 100% effective at masking
Microdroplets stay in the air for up to 10 hours
Toilets can be a source of pathogens (including Covid 19)
Just the facts: What does my filtration system need to do ?
Capture microdroplets and viruses
Have airflow capable of 12 + air changes per hour (12 ACH)
Filtered air should flow from high to low
Have directed vents to avoid stagnant areas
Be quiet
Efficient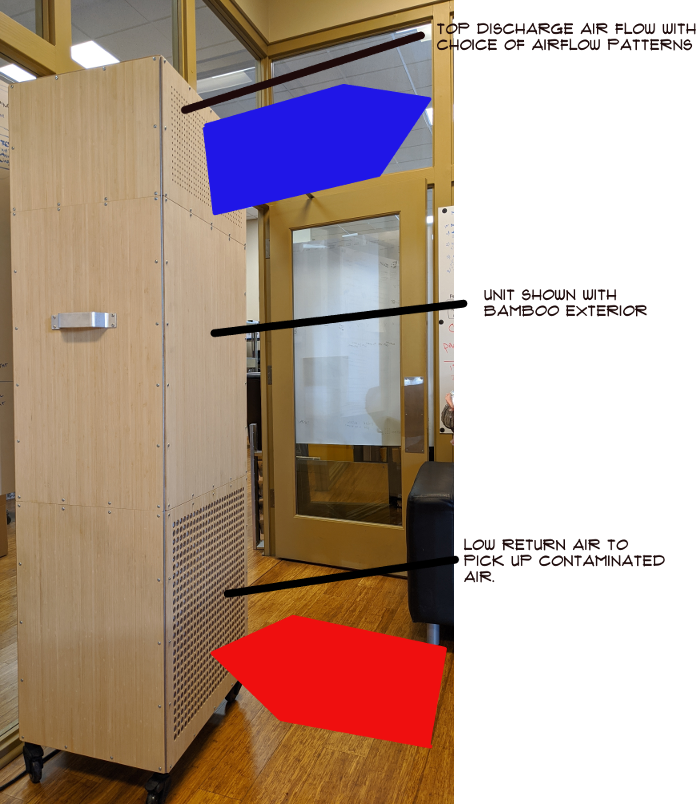 How to calculate required airflow
Airflow in cubic feet per minute (CFM) = # Air changes per hour (ACH) x Room Volume / 60
Example: Conference room 10'x20'x12′, with desired 12 ACH. CFM = 12 x (10x20x12) / 60 = 480 CFM
Specifications
2 Sizes: 500 CFM and 900 CFM
Low power use: 128 watts and 164 watts
Footprint of 18″ x 26″ x 72″ high (with casters)
Prefilter MERV11 with carbon impregnation
HEPA H13 (EU standard) 99.95% efficient, with individual test certificate.
HEPA is 24″x24″ x 12″ deep. This means it has a lot of holding capacity.
Electronically commutated motor (ECM), very efficient
Full range speed control with no motor hum (it's ECM)
Customizable discharge: Front, Side, Top
Availability and Cost
We have a few of our initial batch available
We're taking reservations for units to be ready in 6 weeks.
Check www.hvacquick.com for updated price and availability.