We here at HVACQuick.com happily announce that we will be Stocking a number of Setra Pressure Transducers and Room Pressure Monitors here on the West Coast. Those of you that know what I just said are likely rejoicing, as these types of things are not readily available, and worse, when you need it, you need it bad. Clients will be able to call and speak to one of our skilled technicians to ask questions, and if you absolutely, positively have to have it we will walk it out to shipping to ensure Next Day Delivery (at an additional charge).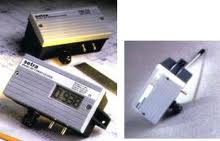 The models we will be carrying will cover most models, and be "adjustable range" so you are certain to find a model that will work in your application to get things up and running.
Room Pressure Monitor
The SRPM Room Pressure Monitor is designed for critical low differential pressure applications that require stringent pressure monitoring and alarming. True differential pressure is measured and displayed with a resolution 0.0001″ W.C. The SRPM is a complete system that includes a convenient backlit RGB LCD display with an intuitive graphical user interface for pressure, security, calibration and alarm setup.