We are thrilled to announce that we now have HRV and ERV products on our website made by Broan. Say goodbye to stale, polluted air in your homes with Broan's state-of-the-art HRVs and ERVs. Promote a healthier and more inviting atmosphere for you and your loved ones with our selection of Broan products.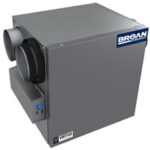 HRV and ERV products made by Fantech, Lifebreath, S&P and Aldes are also available.
Find out more about how HRVs and ERVs work, and which one is best for you here.