Inline fans are installed in ducting and generally used to exhaust warm air out of your home or business, or boost airflow. Because they are engineered to work with ducting they will retain a greater percentage of their advertised capacity in comparison to basic extraction fans.
The Vortex Powerfans VMF series are specifically designed to maximize the airflow performance with minimal noise levels in a small, compact housing. These fans incorporate a powerful mixed flow impeller and internal air vanes located at the discharge end of the fan housing. This impeller and guide vane combination provides a smooth laminar air flow which in turn minimizes turbulence and noise and generates an excellent air flow to static pressure performance ratio.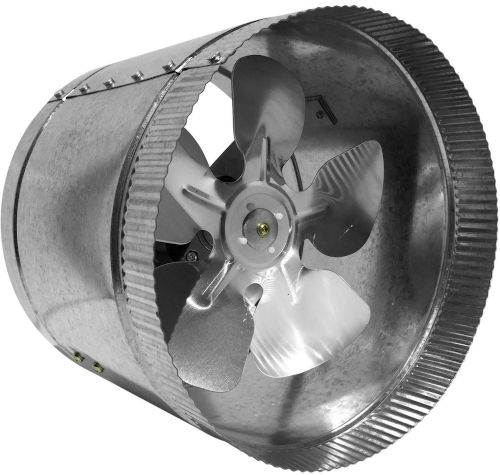 Vortex Powerfans VAT series inline fans are axial in-line fans ideal for boosting airflow. These compact, powerful and quiet fans come completely wired with junction box, strain relief and power cord. Light weight and easy to install, they are fluted on both ends to ease connection to ducting.
Benefits of an inline are that the fan is located further away in the roof space and not directly above you. Furthermore if your roof space is well insulated its one of the quietest ventilation solutions available. Inline fans are also available in large sizes with very high power motors. Quite often this type of power is not available from a standard ceiling mounted or wall mounted extraction fan.