Do you feel like your home doesn't retain heat well, or is just plain cold and drafty? Are your energy costs during the winter months out of control? It could be because all your heat is escaping through your attic.
Improper sealing and insulation of the attic space in a home can lead to a great deal of your warm air escaping. It is known that heat rises, so this makes sense. Heat rises to the highest point in a confined space, the same as it would in a hot air balloon to make it rise.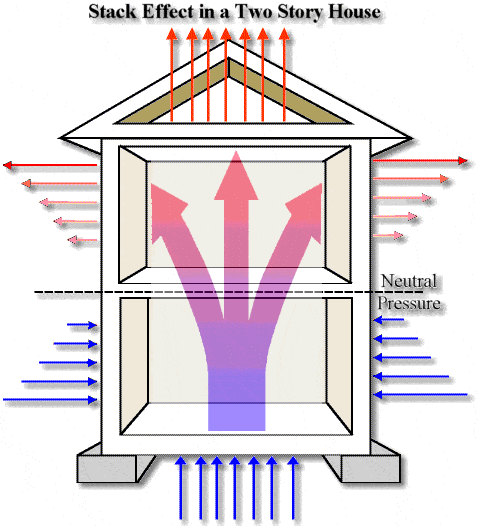 As warm air escapes out the top of the house, the negative pressure created by this action sucks cold exterior air in through lower areas of the house, often times the basement and crawl space areas. This occurrence is known as the stack effect (also called the chimney effect) and can be the primary culprit in loss of warm air in many houses that haven't had energy-saving upgrades.
Properly sealing the attic can help your home retain much of its heat. In addition, your home should have controlled ventilation to keep the air fresh and reduce pollution in your home. This can be attained through HRVs or ERVs or other ventilators.
HRVs and ERVs are essentially mechanical ventilators, but with a heat exchanger. This allows them to transfer heat between air streams, allowing for proper ventilation without sacrificing efficiency. They can take some of the load off your heating and cooling systems because of how they pre-warm and pre-cool air before it enters your home. HRVs can remove stuffy air from rooms with limited airflow and ERVs reduce humidity in the summer and help retain moisture in the air in the winter.
Keeping a good temperature in your house, while properly ventilating is a delicate balance, but this is why there are so many products on the market to help you achieve the correct ratio, while also saving on energy.